5Pcs Strong Round Ferrite Disc Dia 20mm x 3mm Magnets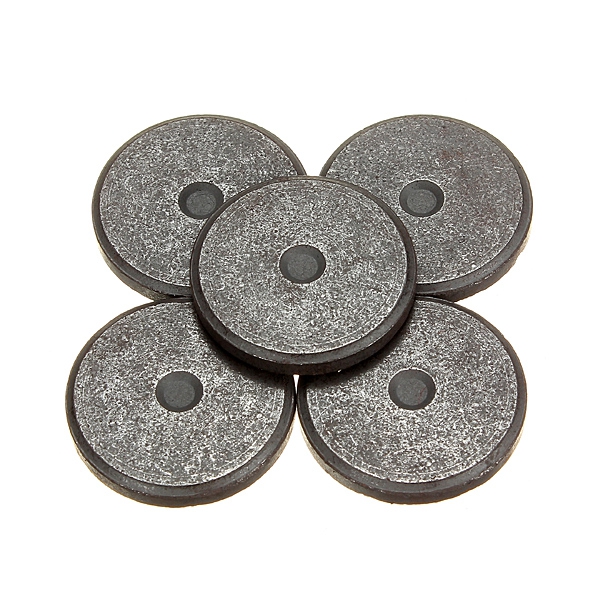 Description:
Ferrite Magnet
Ferrite magnets are BaFe12O19 and SrFe12O19 as raw materials.
Ferrite (ferrites) is a non-metallic magnetic materials. It is composed of iron oxide and one or more other metal oxides (such as : nickel oxide, zinc oxide, manganese oxide, magnesium oxide, barium oxide, strontium oxide and etc.) preparation sintered
Ferrite have hard magnetic, soft magnet , rectangular magnetic, spin magnetic and piezomagnetic five. Formerly known as ferrite or ferrite magnetic material, its production process and looks like ceramic, which is also known as magnetic porcelain.
Ferrite is a composite oxide of iron and other one or more metal elements. It nature is a semiconductor, , usually as a magnetic media to use, the most important distinction between the ferrite magnetic material and a metal or alloy magnetic is conductivity.
Characteristics: Having high magnetic properties, good time stability and lower temperature coefficient.
Applications: Widely used in the meter, motor, automatic control, microwave devices, radar and medical equipment.
Magnetization direction: axial, radial, or as required magnetizing
Specification:
Style: Round
Diameter: 20mm
thickness: 3mm
(+/-0.2mm manufacturers tolerance)
Color: Black
Quantity: 5 Pcs
WARNING: We would not recommend this magnet be used by children under 5 without supervision!
Package Included:
5 x Ferrite Magnet