Great things about FrSky Taranis QX7
---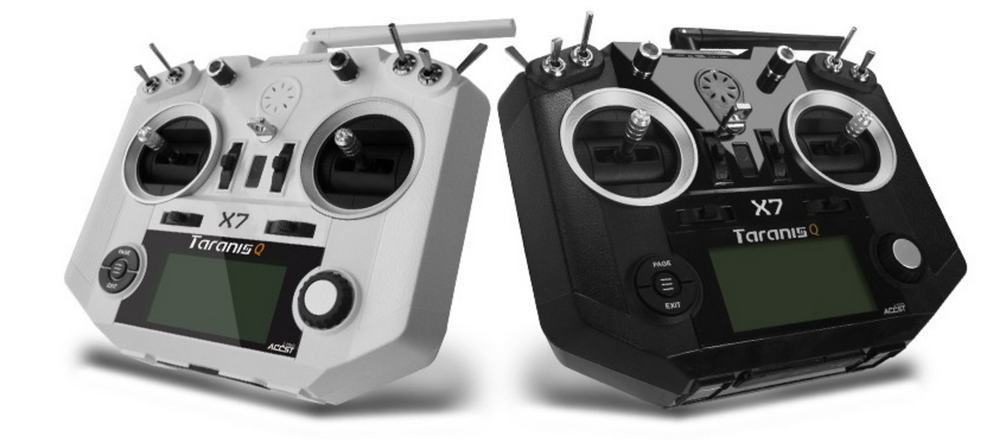 The Taranis Q X7, best know as the X7 is closely based on the very popular X9 Taranis Plus, a radio that has been very well received thanks to it's features and low price point comes with OpenTX Firmware Pre-installed.
For the X7, FrSky has taken a close look at what could be improved, and focused on reducing the sell price, The end result is amazing. With nearly all of the power and features of the Taranis Plus, but a much lower price point!

First off you will notice the modern case design. While about the same size as the Taranis Plus, the ergonomics of the radio are excellent. Upon first contact with the radio you will feel the large rubber grips on the back, and notice the gentle angles on the front. The switches and sticks are perfectly located for both small and large hands, but if you'r a pincher, you may need to do some mods. Trims are easy to get too, and the power switch is flush, and must be held down an extended period of time to turn off, you will not accidentally turn this radio off in flight! The navigation of the radio is greatly improved with a rotary encoder on the right of the screen, and 3 buttons on the left.
We like to point out one of the cool things about FrSky as a company, typically when a radio company comes out with a new lower price transmitter, they we severely limit the radio. FrSky does not do this. The X7 has nearly all of the same features as the Taranis Plus, Taranis X9E and even the top of the line Horus. They all have 16 channels, and can be expanded to 32 channels, FULL telemetry built in, speech, tons of mixing, lots of model memories, logic switches, the ability to base mixes off of telemetry data, external module bay, and so much more. It is much easier for me to tell you what this radio lacks when compared to the Taranis Plus. The X7 has a lower resolution LCD display, no micro SD card included (has slot), no side sliders, no battery, and no battery charger.
It does have better boards placement, now you won't accidentally burst to flame your MainBoard, without removing battery, as this time battery is located in got spot, and you will always remove it before un-assembly. very good touch!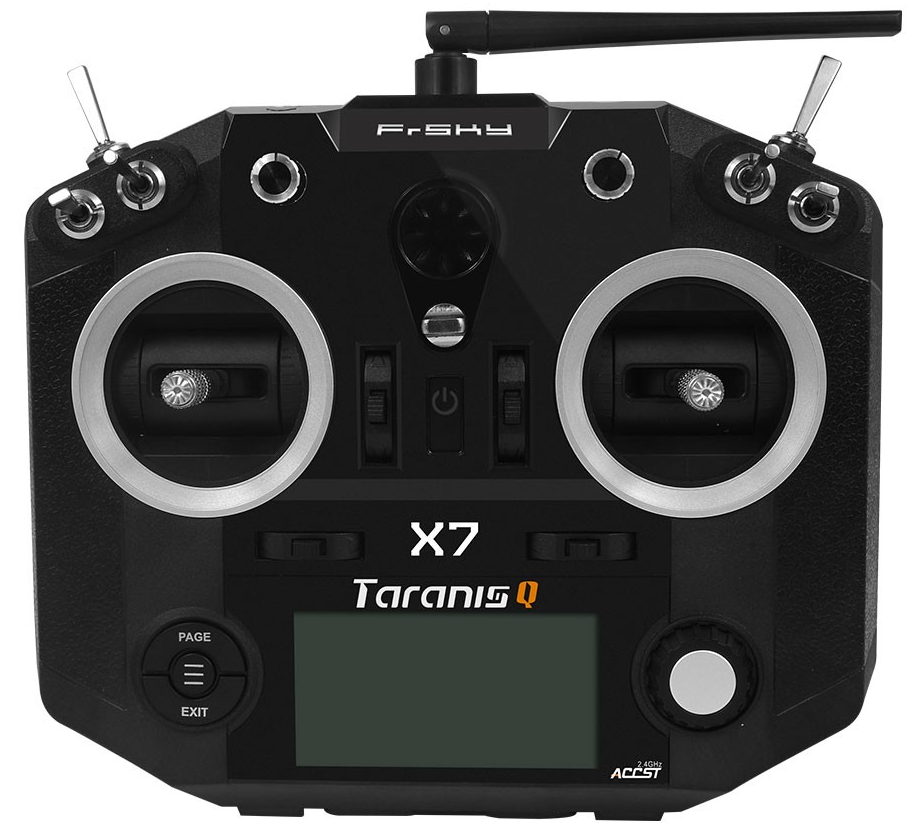 We all know that a low price transmitter is not much good if you don't have a nice selection of receivers and sensors. FrSky now offers one of the largest selections, but if that was not enough, they also have excellent prices on them! You can afford to outfit your fleet, and you will be confident knowing your models are well protected as FrSky's RF system is rock solid with an excellent reputation. There is a reason people trust their large scale, turbine and competition aircraft to FrSky!
Let's talk a bit about the battery options. FrSky has always used NiMH based batteries in their radios. They are cheap, work great and have no shipping restrictions, but some folks complain that they rather use lithium based cells. Well, FrSky has listened. The X7 comes with a battery clip that you can drop in normal AA cells into, or you can remove the battery clip and use a 6 cell NiMH or 2S Lipo, Life or other battery pack. It just needs to fit in the battery compartment (Battery bay dimensions are: 92mm x 59mm x 17mm deep) and have a 2S battery connector to plug into the X7. (These batteries will need to be charged externally from the radio.) All of the FrSky radios are very efficient, so regardless of what battery you select, you should be rewarded with long battery life.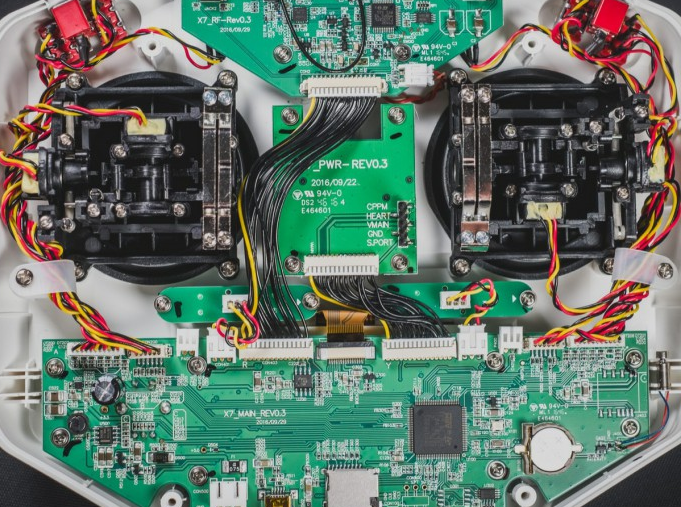 The radio will be sold with different options. You may be able to select a NiMH battery pack at the time of purchase. Unless otherwise noted, it does not include a charger. You will need to use a smart charger to charge this battery.
The X7 has a normal JR style module bay on the back that will accept modules for other transmitting protocols. In the model setup you simply tell the system if you are using the external module, and it shuts down the internal FrSky module. Now you can use your UHF, Futaba, Spektrum, JR, Aisin, and other receivers if you have a transmitter module that fits in a JR style module bay.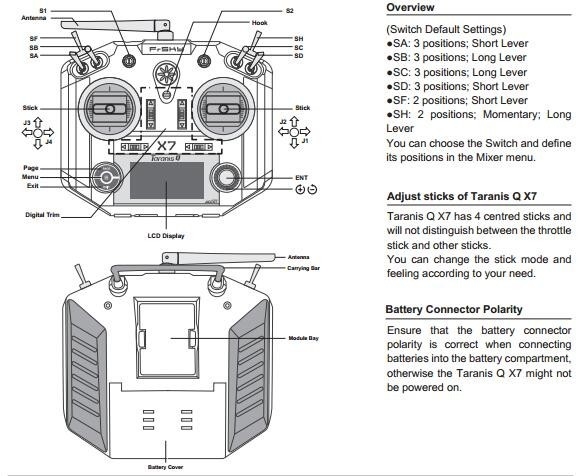 The X7 ships with OpenTX 2.2 an open-source software that has been developed by hobbyist's in the R/C community. The programmers of the transmitter's firmware and companion software which will run on Linux, Windows, and Macintosh are very receptive to input and requests from users. If you can think of it, chances are the X7 is capable of doing it. If you are new to FrSky radios we highly recommend you add the user manual to your order, we had this professionally written and printed to help you learn your way around the radio and get you up to speed much faster!
| | | |
| --- | --- | --- |
| | Taranis QX7 | Taranis X9D Plus |
| Price | $105 | $182 |
| Number of Channels | Up to 16 | Up to 16 |
| Input Voltage | 6V-15V (2S, 3S LiPo compatible) | 6V-15V (2S, 3S LiPo compatible) |
| LCD Screen Resolution | 128 x 64 pixels | 212 x 64 pixels |
| Model Memory | 60 (extendable by SD card) | 60 (extendable by SD card) |
| Number of Switches | 6 | 8 |
| Number of Sliders | 0 | 2 |
| Battery | No battery included | 2000mAh battery included |
| SD Card | No SD card included | 2GB SD Card included |
| Current Consumption | 210mA max | 260mA max |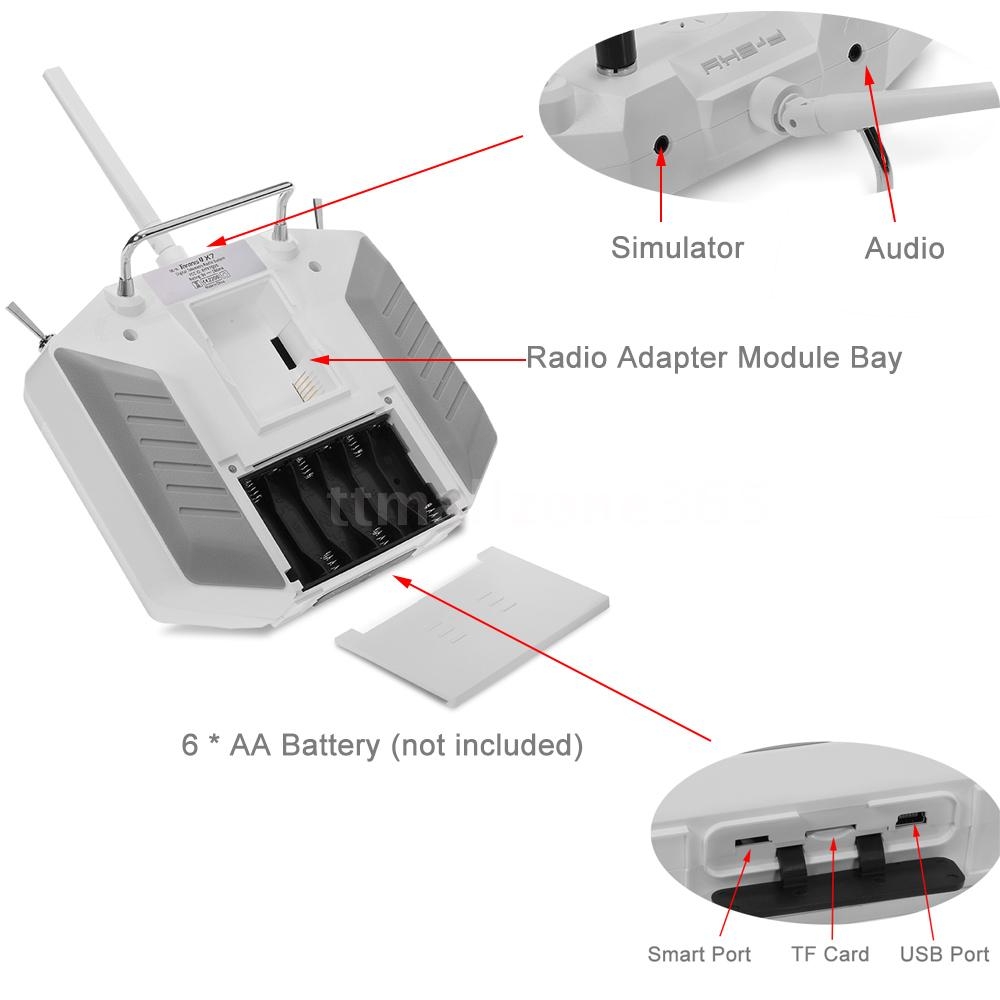 Not negative, BUT!:
The USB port is on the bottom of the radio making simulator use uncomfortable.
It does not come with a receiver or batteries. You need to purchase separately on the store.
Included in the package:
Taranis Q X7 transmitter (Available in Snowy White / Piano Black, and rainbow colors)
Neck Strap & adjustable balance bar
Basic instruction sheet
battery clip for AA cells (rechargeable NiMH recommended)
Micro SD card is not included. (a 1gb card is plenty)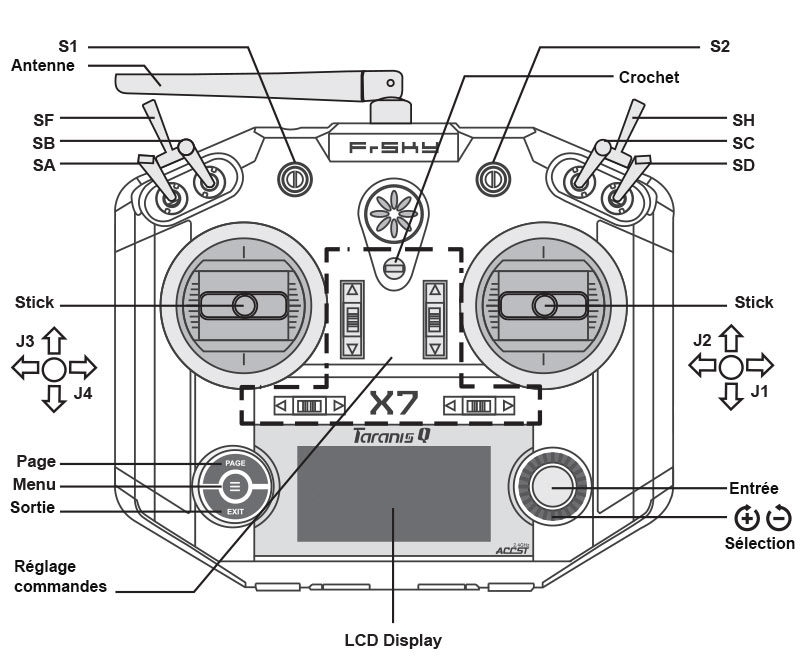 Features:
Operating Voltage Range: 6~15V (2S, 3S Lipos are acceptable)
Battery bay dimensions are: 92mm x 59mm x 17mm (deep)
Operating Current: 210mA maximum (RF module and backlit on)
Operating Temperature -10~45℃
Compatibility: FrSky X series (recommended), L,S D, & V8-II series receivers. Something for everyone!
Long range system capable of up to 2 times the range of current 2.4 systems
Quad Ball Bearing Gimbals (hall effect option coming soon!) Ships with both sticks centering, easy to change modes and centering.
Model files compatible with TARANIS X9D Plus
Full Telemetry RSSI alarms (warns you of signal reception problems before disaster can strike)
Haptic Feedback - vibration
16 channels (32 channels when combined with an external XJT module)
60 model memories
64 mixers, 9 flight modes
16 custom curves with 2-17 points each, 64 logic switches
Voice or custom sound alerts
USB and SD card slot for system expansion
Quad bearing gimbals that are silky smooth
State-of-the-art open source software (OpenTX)
128 X 64 backlit LCD screen
Real-time data logging
Receiver lock (program locked to aircraft - limited to FrSky receivers running D16 mode)
JR Style module bay for additional RF modules and so much more
Selectable stick modes (1, 2, 3, or 4)
2 timers, count up or down, throttle %, talking, etc.
Trims - Adjustable from course to extra fine with extended and exponential trims
Standard trainer jack
ARM Cortex M3 32-bit 120MHz
Integrates with CompanionTX – a FREE computer program that is a transmitter setup buddy. CompanionTX (Windows/Mac/Linux) is used to set-up models with the wizard, save, edit and share your models and settings as well as simulate your transmitter or model setup.
USB connection for firmware upgrades, sound editing, access the microSD card and integrate with CompanionTX
Multiple language support (Radio arrives configured for English language)
Open source community-driven firmware, so unlike with major manufacturers if you need a special function or have good improvement suggestions just raise your voice, and don't be surprised if it's implemented a couple of days later!
You can get your Taranis Q X7 from this stores:
TomTom: http://api.racer.lt/qZdg black
BG: Fast and easy, http://api.racer.lt/qZdf colored versions
GB: Whole pack - http://api.racer.lt/qZdh black & white
---
---
Back
Add Comment