Bee F90 90mm brushed BEE monster with 2s support and F3
---

Winter, is a great time for indoor flying. And for indoor FPV flights you need a well protected quadcopter.
The Bee F90 is a nice looking BEE shape quadcopter, with motor and propeller protectors and full F3 flight controller,
has 600TVl 5.8G video and uses 8520 coreless motors with support up to 2s voltage for maximum power.
Main Features:
- Premium 3K full carbon fiber chassis, sturdy and light
- 5.8G video transmission, 600TVL HD, 120-degree FOV, i.e., enjoyable FPV experience
- 32-bit F3 brushed flight controller with STM32F303CCT6 and MPU6050
- High RPM 8520 coreless motor supports 2S voltage input
- Beautiful body shell with rich colors and durable coating
Specifications:
Carbon Fiber Chassis
Material: 3K full carbon fiber
Wheelbase: 90mm
Thickness: 1mm
Weight: 4g
F3 Flight Controller
STM32F303CCT6 32-bit processor ( 256KB flash )
MPU6050 gyroscope / accelerometer
Micro USB connector for programming
Filtered voltage output: 5V 500mA and 3.3V 500mA
Voltage input, 1 - 2S LiPo
Firmware: CleanFlight support, BetaFlight ready
Dimensions: 4.6 x 2cm
Weight: 4g
8520 Coreless Motor
Lead length: 60mm
Shaft length: 5.2mm
Motor height: 20mm
Rated voltage: 7.4V DC
No-load current: 120mA ( max. )
Load current: 1200mA ( max. )
RPM: 46000 ( no-load ); 38500 ( load )
Weight: 5g / piece
Image Transmission
Resolution: 600TVL
TV system: NTSC
Min. illumination: 1 lux
Field of view: 120 degree
Input voltage: 2.5 - 5V ( 1S LiPo )
Output power: 25mW
Frequency range: 5645 - 5945MHz
Channels: 40, including RaceBand ( Band R )
FrSky XM 16CH Receiver
Size: 15 x 10 x 3.5mm
Weight: 1g
Channels: up to 16CH from SBUS ( CH 1 - CH 15 for PWM, CH 16 RSSI for FC )
Operating voltage: 3.5 - 10V
Operating current: 20mA at 5V
Receive distance: more than 600m
Onboard RSSI output: analog 0 - 3.3V
Firmware upgradeable: yes
Fail-safe: yes
Compatibility: FrSky D16 Mode transmitters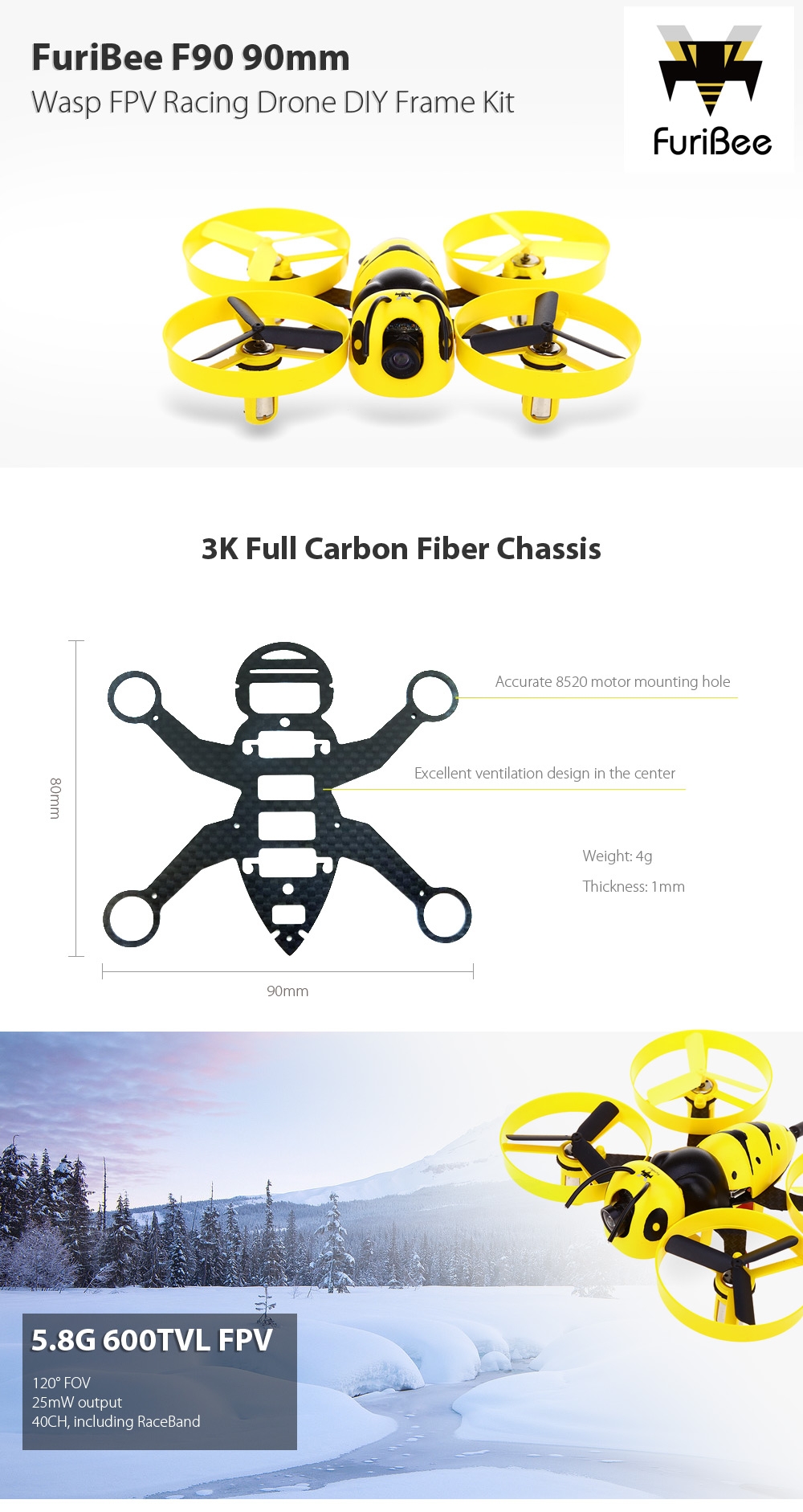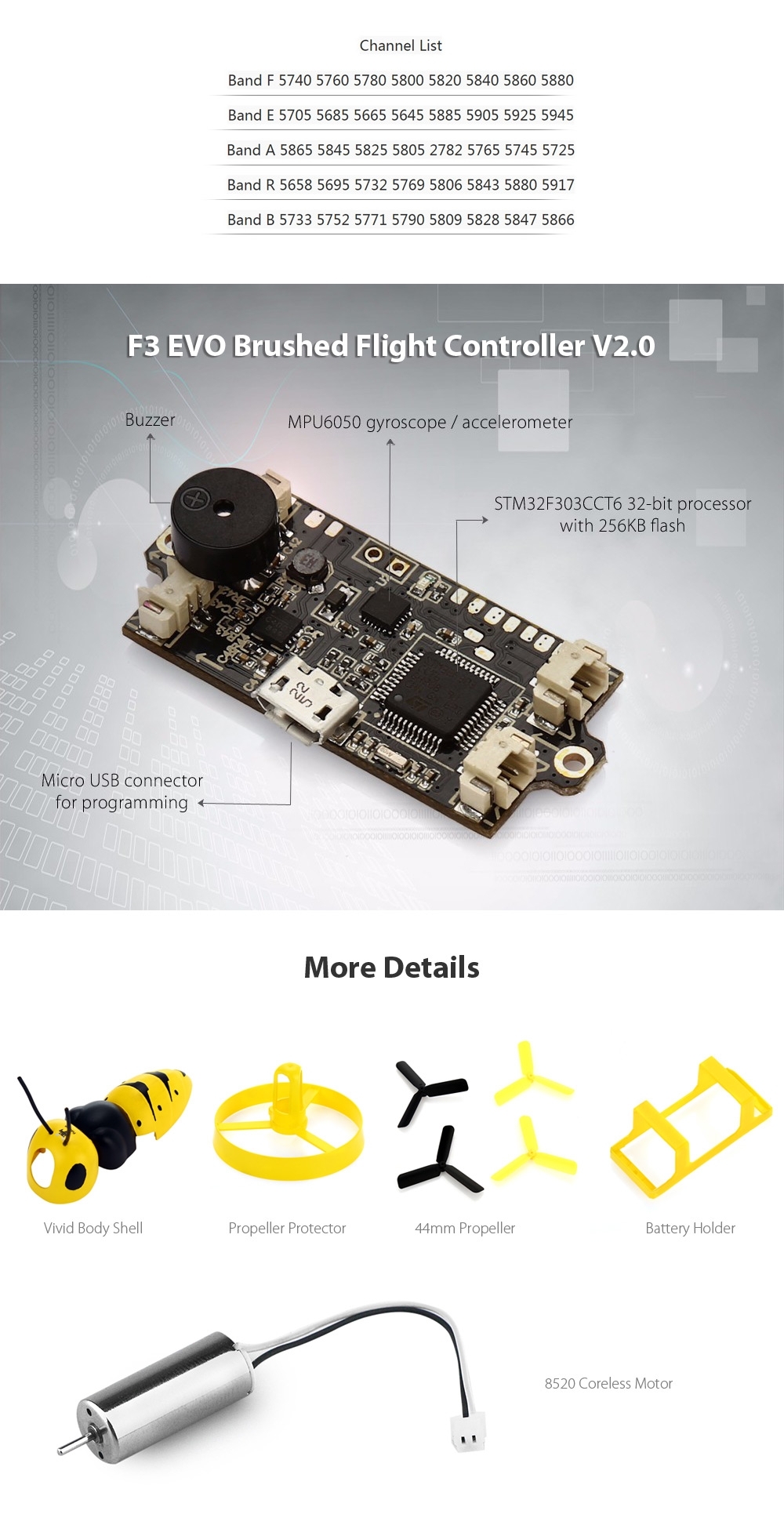 Check out with good discount for Bee F90
Other great deals at GearBest
---
---
Back
Add Comment