Polar Pen Modular Magnetic Pen with Refill & Steel Balls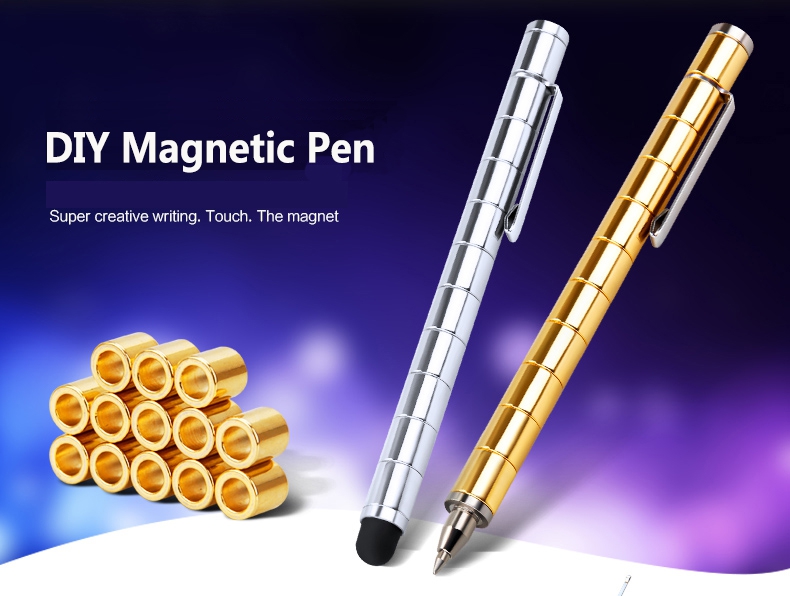 Description:
Magnetic Pen is the world's first modular pen made from MAGNETS. This beautifully simple product will transform into endless possibilities
The magnets may affect on cell phones, tablets and modern laptops with flash storage. we would not recommend putting them in direct contact with any spinning harddrive.
This modular pen will inspire you at work, school or home. If you enjoy tinkering with things or are fascinated with the power of magnets, then this product is for you.
We have found many fun and functional ways of using the Magnetic Pen and we are really excited to see what you will come up with.There are four unique components excluding the magnets: Cap, Clip, Tip and Stylus.
These components are not magnets they are made from steel and coated with a black zinc finish. The components stick to the magnets due to their large content of nickel and iron.
Portable, convenient to use
Employ advanced magnetism technology, full of magic power
Made of high-quality steel material, sturdy and wear-resistant
Bright colored case, gorgeous and chic in look
Equipped with a refill for long-lasting operation
It comes with 12pcs steel balls for replacement
A funny DIY gadget for amusing kids or adults
Specifications:
Material:Stainless Steel & Magnetic
Weight:4.83oz / 137g
Dimensions:(5.51 x 0.39 x 0.39)" / (14 x 1 x 1)cm (L x W x H)
Package Includes
1 x Magnetic Pen
1 x Refill
12 x Steel Balls