Piececool DIY Stainless Steel Assembled Model Japan Z-plane 3D Puzzle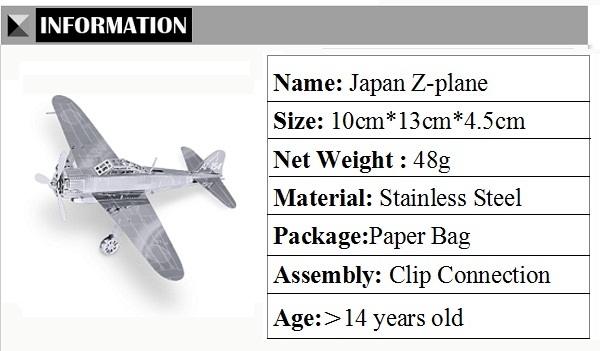 Description:
Type: DIY 3D Puzzle
Material: Stainless Steel
Suitable Age: 14+
Color: Silver
Size:10x13x4.5cm
Feature:
1. Made of Stainless Steel
2. To exercise the hands-on skills and dimensional thinking ability of your children above 14 years.
3. A good decoration for your desk, bookshelf, table, bed, etc.
4. Simply pop out the pieces and bend, fold, and assemble them using the included illustrated instructions.
5. A great chance to build up your imagination.
6. A perfect toy or gift for your children or friends.
Note: Please take the sheet out carefully to avoid any damage.
Package Included:
1 x Piececool Puzzle Toy