JOYO JA-02 Portable Guitar Amplifier Sounds Distortion Effects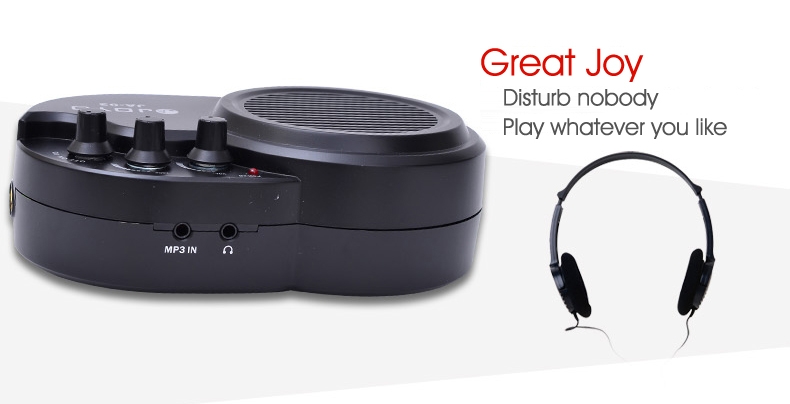 Description:
Brand: JOYO
Name: JOYO JA-02 Mini Guitar Amplifier
Output: 3W
Effects: Clean, Distortion
MP3 Input Jack: 3.5mm
Earphone Input Jack: 3.5mm
LED Power Indicator
Material: ABS Plastic
Dimensions: 147(L)X32(W)X84(H)mm
Power: 9V DC or 6F22 Battery (battery is not included)
Features:
1. This great little portable amp is perfect for rehearsals and practice with the MP3 input socket 3.5 mm.
2. You can play along to tracks and playback together through the amp with clean and distortion setting powered by a 19 V battery.
3. Connecting external audio from CD or MP3 with the 3.5 mm axillary channel input jack to get the sound accompaniment, volume of input audio is controlled by the external source.
4. Adjusting the volume of the audio source when the power is turned on, to achieve the levels required.
5. Turn on the switch to get a quick distortion effect, adjust the volume and tone knobs for the guitar to your preferred sound and level.
6. The amplifier is powered by a 9v battery (not included) but additional amplification can be achieved when using an external power source.
Package include:
1x JOYO JA-02 Guitar Amplifier
1x Instruction