Colorful Violin 4/4 Acoustic Not Fade Violin with Case&Bow
The violin will be a good choice for the beginners among you if you can take it as your first instrument. The violin's body is made of high quality basswood, and high grade solid ebony for fingerboard, tailpiece, tuning peg and so on. They feature beautiful sound, high quality and reasonable price, good practice for every student. Moreover, we free provide a high quality violin bow to violin beginners. We are confident that you will be satisfied with the attention to detail and durability of our violins! Then what are you waiting for?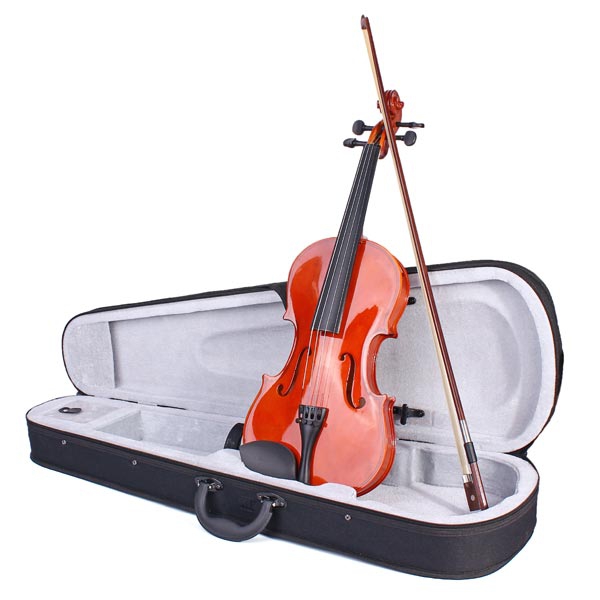 Description:
Violin Color: Claret,Purple
Violin Dimensions: 57.5 x 31 x 6cm
Package Dimensions:79 x 24 x 11.7cm
Weight: 1369g
Features:
New and high quality, handmade, pure sound
All they are 4/4 full size
The panel is made from basswood
The bow is made from arbor and white horse tail
This set includes violin, case, bow
The inside of case is very soft to protect the violon
The violin is a string instrument, usually with four strings tuned in perfect fifths. It is the smallest, highest-pitched member of the violin family of string instruments, which also includes the viola, cello, and double bass.
A violin typically consists of a spruce top (the soundboard, also known as the top plate, table, or belly), maple ribs and back, a neck, a bridge, four strings, and various fittings, optionally including a chinrest, which may attach directly over, or to the left of, the tailpiece.
How to determine what size violin you need:
Violins are available in 8 different sizes: 4/4 (also called full size), 3/4, 1/2, 1/4, 1/8, 1/10, 1/16 and 1/32. Size 4/4 is the biggest and size 1/32 is the smallest. All adults, regardless of their sizes, use the size 4/4 violin.
To measure what size violin best suits you, you need to know the length between your neck and the middle of your left-hand palm (when your hand is fully extended and raised perpendicular to your body, just like holding a violin). If you have a teacher, you should ask for your teacher′s recommendation. If you don′t have a teacher, we would recommend using the neck/wrist approach for students instead of using full size.
Package Includes:
1 x 4/4 Colorful Violin