3 IN 1 Doodling Robot Graffiti Electrical Auto Drawing Machine Kit DIY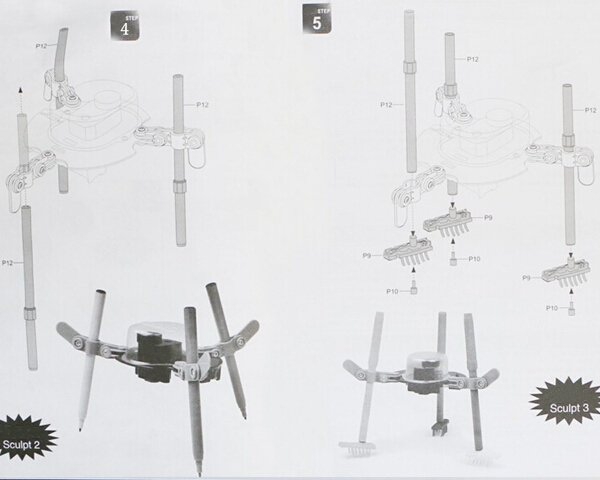 Battery provides power for the engine, so that the weight to high-speed operation, the focus is not in the center of it and the motor shaft is not on the same line. When rotating in weight, it would have been such that the bottom plate in the opposite direction of movement, which also causes the bottom plate to the engine and a high frequency arc vibration, the tip will follow the vertical motion. When the pen off the paper, which arc vibrations will continue to make the pen movement. If you do not like that pen up and down vibration, pen and paper friction would prevent continued this movement.
Description:
Name: 3 in 1 Doodling Robot Kit
Weight: 174g
Material: ABS
Size: 210×181×51mm
Packing: English colorful box
Features:
3 different working models.
Build your own kit with these kits.
The kit will not work if built wrong .
Only one project can be completed at a time.
Easy to assemble by following the step in instruction.
Great assembling toy for children to practice and empower their brain.
Also ideal to express your childs' interest in science, extremely helpful for your children on creative thinking
fun to play with and requires batteries(batteries not included) .
Package included:
1 x Doodling Robot Kit
1 x English Manual
3 x Color Pen
3 x Color Brush